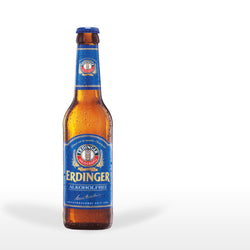 Erdinger
Erdinger Non Alcoholic Wheat Beer
SKU: NA001
The Best Non Alcoholic Beer.
Erdinger Non Alcoholic is something of an anomaly in that it's a non-alcoholic beer that actually tastes amazing but there's much more to this beer than you might expect.
First of all it's worth pointing out how non-alcoholic beers are normally brewed.
Most companies brew the standard (alcoholic) version of their beer and then subject it to one or a number of processes which include adding deoxygenated brewing water to dilute the beer to the desired level of alcohol or using dialysis / reverse osmosis or heating the beer in order to boil off the alcohol (alcohol has a much lower boiling point than water) all of which impact on the flavour and mouth-feel of the beer which might explain why it sometimes feels like you're drinking cardboard.
Erdinger have developed their own proprietary production method which allows them to brew for long enough to capture most of the flavours and aromas but then knock-off the fermentation process once the beer has reached 0.4% ABV.
Erdinger Non Alcoholic is low calorie (125 kcal per 500ml serving) and contains all of the B-group vitamins niacin (B3), riboflavin (B2), pyridoxine (B6), Cobalamin (B12) as well as Folic acid (B9) which makes it ideal for consumption during pregnancy.
In addition Erdinger Non Alcoholic is isotonic which means that its particle concentration corresponds to that of human blood so the various substances (minerals and trace substances) contained in the beer are taken up by the body faster than other beverages.
All of these factors make it the ideal drink for regeneration and rehydration after sports.
Scientific studies suggest that beverages with an alcohol by volume (ABV) of less than 0.5 % have no effect on the body at all and in fact it's very common for orange / apple juice to contain similar amounts.