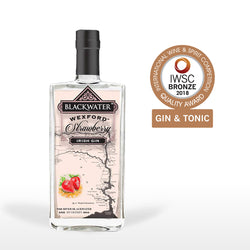 Blackwater
Wexford Strawberry Pink Gin
SKU: SP030
The Best Pink Gin - We certainly think so!
If you like your gin dry with a delicate touch of natural sweetness then this is the gin for you.
Blackwater Distillery is one of Ireland's newest yet most critically acclaimed craft distilleries and since it's foundation in 2014 has introduced 5 different gins which have been heavily influenced by the range of exotic spices imported to the region in Victorian times. Blackwater Distillery produce Ireland's most awarded gin range.
Since the launch of this delicious pink gin in 2017, Blackwater Wexford Strawberry Gin has become hugely popular in Ireland the UK and American markets and is now finally available in Australia. The Blackwater Distillery use strawberries which are specially grown by a farm in Enniscorthy, Co. Wexford which is only 1 hour from the distillery. It takes an impressive 1kg of strawberries to make a litre of gin and there are 12 additional botanicals including juniper, blackberries, bitter orange, lemon, lemongrass, coriander, liquorice root, orris root, cinnamon quills, myrtle pepper, bitter almond and green cardamom. After distillation, we soak even more strawberries in our gin (that's how it gets its colour), then we bottle it. We don't add any sugar or sweetener of any sort. 
"The big thing about Wexford Strawberry Gin , both in the nose and to taste, is that it is a gin, not a fruit gin, not a sugary mess, tasty gin. Strawberries are used as a botanical here and are interlaced, delicately appearing and disappearing in a mist of spice and citrus in a perfectly balanced ensemble. The strawberries are prominent on the nose, giving the gin a sweet aroma, but juniper is softly present in the background. To taste, citrus, then strawberries, then juniper and other spice emerge. Fantastic journey, fantastic gin." – Gin Kiosk UK
To get maximum enjoyment this summer try this delicious gin cocktail: Wexford Strawberry Gin, lots of ice, fresh strawberries, cracked black pepper, torn basil leaves and an aromatic tonic.
Irish Gin, Pink Gin, Strawberry Gin.