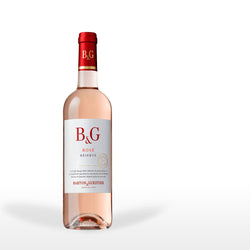 Barton & Guestier
Barton & Guestier Reserve Rosé (Syrah) 2019
SKU: 5f8bb521d12ea
Barton & Guestier Reserve Rosé 2019 IGP Pays d'Oc.
Grape Variety: Syrah
Tasting notes: Flattering nose with ripe red fruit aromas (Redcurrant / Raspberry) and floral notes (rose). Crisp and lively on the palate with intense, pink grapefruit aromas.
Bronze Medal – Global Rosé Masters 2020 – UK – 2019 vintage
Sustainable Wine. Vegan Wine.