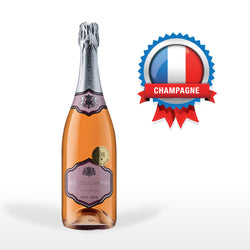 Didier Chopin
Champagne Didier Chopin Rosé
SKU: W034
Rosé Champagne - Artisan Champagne for true Champagne Lovers!
Didier and Karine Chopin are one of a new breed of artisan Champagne producers who have started to produce Champagnes that exceed the quality of their better known and bigger neighbours.
Based in the Marne Valley Didier and Karine bottled their first Champagne in 1989, made from grapes grown on Karine's family's estate. Today they have an estate of their own and each year they acquire another parcel and now have a total of 3 hectares and produce almost 200,000 bottles.
This champagne is produced using Pinot Meunier and Pinot Noir grapes which a bright rosé colour and an intense aroma of red berries (strawberries, cherries, raspberries). In the mouth smooth and delicate making it the perfect aperitif.
Anthony Rose wrote: "Champagnes made by local growers are not just affordable, but in many instances superior to the better known big brands" (Independent).
Small, independent and a real family affair… the kind of people you want to be making your champagne!