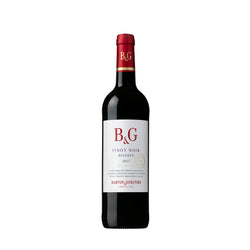 Barton & Guestier
Barton & Guestier Reserve Pinot Noir 2017
SKU: W064
French Pinot Noir
IGP: I'le de Beauté Cosica.
Grape Variety: 100% Pinot Noir
Barton & Guestier have an exception pedigree in the world of French wines and are the oldest wine house in Bordeaux.
The Reserve Pinot Noir colour is Ruby red with violet hues.
Intense aromas of red cherry combined with seductive mocha, vanilla and spicy notes. Soft on the palate with velvety tannins, dominated by notes of kirsch and spices. 
Ideally served with Spicy Mediterranean tomato based dishes, pizza, paella, risotto with wild mushrooms.
Sustainable & Vegan