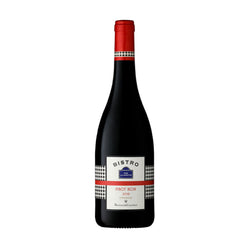 Bistro
Barton & Guestier 'Bistro' Pinot Noir 2018
SKU: W034
Classic French Pinot Noir.
It is a tradition in France to meet at the local bistro to relax, socialise, drink wine and dine in a casual friendly setting. Bistro Pinot Noir has all the right qualities of good bistro wines: simple, delicious, fun to drink, and excellent with lots of different foods and flavours!
The grapes for Bistro Pinot Noir come from vineyards in Languedoc Roussillon and Corsica (Ile de Beauté). The rather cool temperatures help the grapes to develop rich fruit-focused wines.
Purple red colour. Intense aromas of bright cherry and vanilla on the nose: a good structure on the palate. A well balanced wine with a lingering finish.
88 Points Ultimate Wine Challenge 2020 - Barton & Guestier (USA) June 2020
Silver Medal – Gilbert & Gaillard International Tasting 2020 – 2018 vintage
Bronze Medal – Global Pinot Noir Masters 2020 – 2018 vintage
* Wine Enthusiast – December 15, 2007 - Buying Guide Rating: 84
* USA Today Wine Blog 2/21/07 "RECOMMENDED". Simple and unpretentious, yet distinctly French, this wine completely lives up to its name. The fruit is restrained, the texture is soft and there is a smidgeon of that ethereal Sideways character lurking in the bottle.