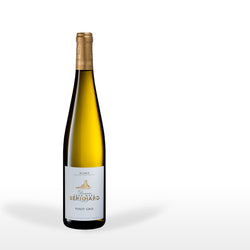 Domaine JMB
Domaine DMB Organic Pinot Gris 2017 (Alsace)
SKU: W103
Fine wines from Alsace.
Domaine Jean-Marc Bernhard is the culmination of 9 successive generations of winemakers producing wines for 200 years and dedicated to producing only Organic wines since 2012.
Domaine JMB is situated in Katzenthal, in the west side from Colmar, in the heart of the Alsacian wine country, a picturesque village laying in a valley surrounded by vineyards along the Alsacian Wine Route.

The family estate is situated in the middle of the village, the buildings, dated from the 16th century, have been bought by the family Bernhard in 1802. The cellars have always exclusively served to the winemaking.

Our organic vine philosophy is based on the respect of the terroirs and the soils. Everything is done to favour the life of the soils, basis of the expression of each terroir. Regular ploughing, grass in the vineyard, compost, maintenance of our old vines, detailed and precise work on the plant are as many ancestral and human gestures in the service of our wines. 
100% ORGANIC ESTATE WINE

GROUND :
Granitic and sandy.

GRAPE-VARIETY :
Pinot gris.

WINE-HARVEST :
By hand with selevtive picking.

WINE-MAKING :
Natural yeasts, maturing on the fine lees during 8 months in large oak barrels and stainless steel tanks.

BOTTLE AGEING :
3 to 6 years.

WINE TASTING :
Clear yellow colour, brilliant, expressive nose, fruit aromas (apricot, peach), smoked, crystallized fruits. In the mouth it is rich, full, round and fresh.

EXAMPLES OF COURSES :
White meat (blanquette of veal), fish in a sauce, salads, mushrooms, terrine. You can almost drink this wine with a complete meal.