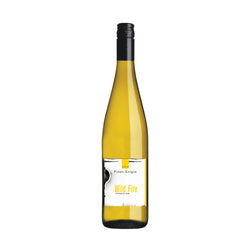 Wild Fire
Wild Fire Pinot Grigio 2018 (South Gippsland)
SKU: W061
Victorian Pinot Grigio.
The South Gippsland area produces some of the best and most textural wines in Victoria, particularly white wines. The cooler, maritime climate and volcanic, loamy soils are especially suitable to this grape variety, and this wine shows it extremely well.
This wine has lifted, complex and deep aromatics, a fine acid line and warmth and roundness in the mouth, whilst retaining its light touch. It is a far more elegant and layered style than most simple "summer" Grigios.
The bottle ageing has delivered a more layered and interesting wine, one to be enjoyed with seafood, salads, light pasta and Asian spice.