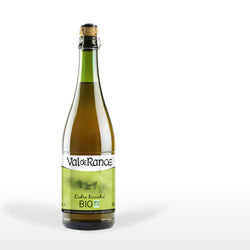 Val De Rance
Val de Rance Organic Cider
SKU: CDR003
Organic and Vegan Cider.
This classic Brittany brut cider is made using cider apples from organic farming. Our expertise in selecting and blending sweet, bitter sweet, and sour apples gives it a nose with slightly stewed apple aromas. 

On the palate, the attack is supple with a creamy evolution and a tannic touch, with a fresher finish thanks to the tart apples.

Val de Rance ciders contain no added sugar, no added yeast no added water and are Vegan and Gluten Free.