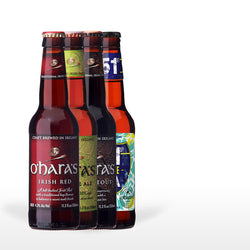 O'Hara's Mixed Case
SKU: 5f8bad81906f4
The Best of Irish beer.
O'Hara's are one of the pioneers of the Irish Craft Beer industry and have been dedicated to producing full flavoured versions of Ireland's most famous beer styles.
This mixed case provides is an opportunity to explore the award winning range of O'Hara's core range including Stout, Red Ale, IPA and NEIPA.

Naturally brewed, Vegan, Sustainable and now available in Australia.