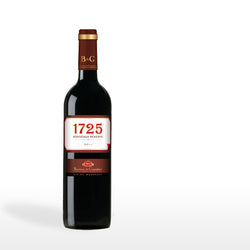 Barton & Guestier
Barton & Guestier 1725 Merlot / Cab Sauv Reserve (Bordeaux)
SKU: W1075
Superb Bordeaux offering exceptional value.
Classification: Appellation Bordeaux Contrôlée Region: Left bank of the Dordogne river and right bank of the Garonne river
Grape Varieties: 60% Merlot, 40% Cabernet Sauvignon
Soil: Combination of gravel, clay and limestone
Climate: Oceanic, mild and humid
Vinification: Controlled extraction- alcoholic fermentation at high temperature (30-32°C) with daily pumping over-maceration (for 2 to 3 weeks) – malolactic fermentation - Ageing on lees in vats
Viticulture: Low yields, hand tending, careful selection and minimal interference in the natural ripening of the grapes.
T A S T E
Appearance: Deep cherry red colour and brilliant Nose: Rich and intense nose of red berry fruit (redcurrant, wild strawberry). When agitated, spicy and minty notes appear.
Palate: Velvety tannins on the palate, well balanced wine with a long fruity aftertaste.