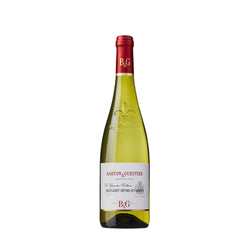 Barton & Guestier
Barton & Guestier Muscadet
SKU: W062
Superb wine from Loire Valley.
Appellation Muscadet Sèvre-et-Maine Contrôlée Region: Situated in the Loire Valley, in the region where the Loire river meets the sea, southeast of the city of Nantes.
Grape Varieties: 100% Melon de Bourgogne
Soil: Clay Oceanic climate, mild with lots of rain.
Vinification: Crushing of the grapes- alcoholic fermentation at 20°C- partial malolactic fermentation. Ageing in vats.
TASTING
Bright yellow with green highlights. Delicate nose with white flower aromas combined with a hint of grapefruit (lemon). Lively and mineral on the palate with a refreshing finish. Seafood, grilled fish, goat cheese. Best served between 8°C and 10°C.