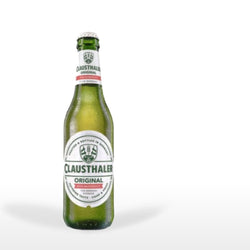 Clausthaler
Clausthaler Non Alcoholic Lager
SKU: NA006
Non Alcoholic Beer at its best!
'The beer that's not a beer!' With the demand for alcohol free beers growing steadily many breweries are adding a non alcoholic beer to their range but the difference with Clausthaler is that they only non alcoholic beers!
Ever since Clausthaler put non alcoholic beer on the map back in 1979, German brewer Clausthaler has been the undisputed pioneer and Gold Standard of the category.
With its own, specialised brewing technique, the pioneer still creates its signature non alcoholic lager, Clausthaler Classic, in strict accordance with the German purity law.
This authentic 'real beer' taste is well-balanced, fresh, and easy to drink, with a creamy feel on the palate and a pleasing golden colour to match.
'The beer that's not a beer!'