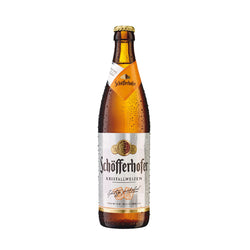 Schofferhofer
Schofferhofer Kristall (Filtered Wheat Beer)
SKU: BPK011
German wheat beer with the crystal clear sparkle! When both look and taste are crystal clear, you've probably chosen a Schöfferhofer Kristallweizen.
In contrast to our "naturally cloudy" Hefeweizen, all yeast is carefully filtered out of this variant, giving Schöfferhofer Kristallweizen its characteristic, perfectly clear appearance.
Oh, and one thing is just as clear as the beer: The filtering process doesn't diminish the tangy rich aroma you can expect from every Schöfferhofer.