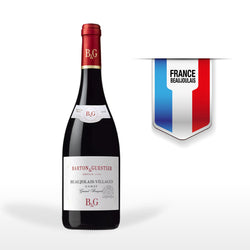 Barton & Guestier
Barton & Guestier Beaujolais Villages 2018
SKU: W064
Beaujolais Villages 100% Gamay.
Cherry red colour with good intensity. Elegant with fresh fig and ripe berry aromas (black cherry, wild strawberry) as well as delicate spicy notes. Nice structure on the palate with long liquorice finish.
B&G BEAUJOLAIS VILLAGE GAMAY begins with a pleasing aroma of black cherry, liquorice, violets, and some nice earthiness. The wine tastes smooth, simple and delicious. Filled with lots of berry fruit flavours it even has hints of banana and bubblegum.
With soft tannins this one is very easy to drink but it actually has some nice depth of flavour too which you don't always find in Beaujolais at this price point. It ends dry with a bit of earthy spice under the long, lingering fruit. This is a great wine for this price!
Vegan & Sustainable.