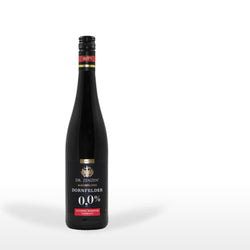 Dr Zen Zen
Non Alcoholic Dornfelder
SKU: NA003
Non Alcoholic Wine.
If you love wine, but want to give the alcohol a miss, here you have an alternative with only one-third of calories compared to a wine containing alcohol. Selected wines are de-alcoholized to the highest technical standard in a particularly gentle process.  
A very dark red wine with an intense colour and subtle violet tones it has an expressive and fruity bouquet. Clean, balanced in palette with mild tannins and delicate acidity. 
Wine with shiny cherry color. Subtle flavors of pomegranate and red currant with a touch of vanilla.
So what variety is Dornfelder? This variety was bred in Germany in the 1950s. Its heritage include the varieties Pinot Noir, Schiava Grossa, Blaufankisch and Blauer Portugieser. Although it is a relatively new variety it has rapidly become popular in Germany and more recently in Switzerland. Only a few wineries in Australia have this variety as it is a cold weather grape, so they are either in the alpine regions or in Tasmania. It seems that this variety could fill a niche as a smooth drinking red wine alternative to pinot noir in cooler wine regions.
Alcohol Content:  Less than 0.5%
21 calories (88 kJ) & 4.8 carbs per 100 ml 
Residual Sugar 4.3 g/100 ml. / Fat-free