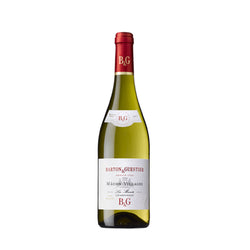 Barton & Guestier
Barton & Guestier Mâcon-Villages 2018
SKU: W063
Burgundy Wine Chardonnay.
Pale straw colour with golden highlights. Seductive nose of fruit aromas (peach, pear) with white floral hints (acacia). Elegant on the palate with a pleasant and refreshing finish.
Appellation: Mâcon-Villages Controlée.Region: Southern Burgundy, on the right bank of the Saône river, north of the city of Mâcon. Grape Variety: 100% Chardonnay.
Soil: Granitic with chalky underlying rocks.
Continental climate with cold and dry winters and hot and sunny summers.
Vinification: Pressing of the grapes before settling to obtain sufficient clarity – alcoholic fermentation between 20°C and 24°C / 68°F and 75°F – malolactic fermentation.
Ageing in vats. Format Available: 75cl.
Vegan