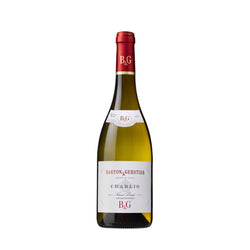 Barton & Guestier
Barton & Guestier Chablis 2017
SKU: W1007
Burgundy Wine Chablis.
Apellation: Situated in the north of Burgundy near the town of Auxerre in the Yonne department.
The Chablis made from 100% Chardonnay and pours a brilliant golden yellow with an aromatic nose mixing seductive pear and apricot aromas with delicate mineral notes. Fresh and lively on the palate, with a clean mineral finish.
Grape Variety: 100% Chardonnay.
Soil: Chalk and marls covered with pebbles.
Continental climate with cold and dry winters and hot and sunny summers.
Vinification: Crushing of the grapes before settling to obtain sufficient clarity – alcoholic fermentation between 20°C and 24°C / 68°F and 75°F – malolactic fermentation.
Ageing on fine lees in vats with oxidation control.