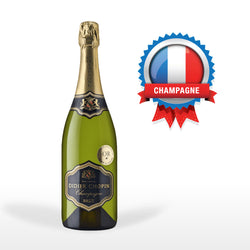 Didier Chopin
Champagne Didier Chopin Brut
SKU: W033
Artisan Champagne for true Champagne Lovers!
How many people actually buy a particular brand of champagne for the taste rather than the power of the brand name?
Didier and Karine Chopin are one of a new breed of artisan Champagne producers who have started to produce Champagnes that exceed the quality of their better known and bigger neighbours.
Based in the Marne Valley Didier and Karine bottled their first Champagne in 1989, made from grapes grown on Karine's family's estate and today they have an estate of their own.

Blanc de Noir - This Brut is made from the two black grapes of Champagne, Pinot Noir and Pinot Meunier and was included by The Independent in their Top 10 Christmas Champagnes.
"Ripe stone fruit, brioche and floral aromas. A classic, fuller bodied Champagne of superb quality"- Daily Mail
Anthony Rose wrote: "Champagnes made by local growers are not just affordable, but in many instances superior to the better known big brands" (Independent).
Enjoy a Champagne of incredible richness and complexity.