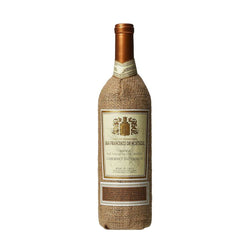 San Francisco de Mostazal
San Francisco de Mostazal Cabernet Sauvignon
SKU: W077
Chile - Cabernet Sauvignon.
The "Wine in the Sack", this Cabernet Sauvignon is one of Chile's finest!
Deep violet red in colour. The aromatic profile features fresh and dried cherry and dried plum, with a touch of mint and dark chocolate in the background. On the palate, the wine is rich, well balanced and approachable with a long finish.
Known as "Cab in a Sack," the bottle is wrapped in burlap and then labelled. The story is that this is historically how they helped protect the bottle from breaking on its way to market. Deep violet red in colour.