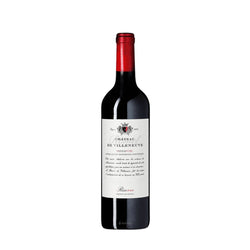 Barton & Guestier
Chateau de Villeneuve Minervois AOC 2017
SKU: W192
Languedoc-Roussillon Minervois.
It's no wonder that the wines of Languedoc-Roussillon are becoming increasing popular and this perfectly blended Minervois from Chateau de Villeneuve provides a telling explanation.
The Minervois appellation refers to a distinctive red wine produced in Western Languedoc.
The predominant grape varieties used in AOC Minervois wines are Grenache, Syrah and Mouvèdre (GSM) which collectively must make up at least 60% of the blend. The remaining 40% of the blend is made up of Carignan and Cinsault which thrive in the hot climate of Languedoc-Roussillon and bring softness and bouquet to this exceptional blend.
Not far from the famous Carcassonne fortress at the foot of "La Montagne Noir" are the 30 hectares of the Minervois vineyards of the Château de Villeneuve. This renowned family-owned company is the third generation to produce this spicy-elegant representative of the French way of life.
Intense dark chocolate, Turkish delight aromas. On the palate the wine is smooth with silky sweet tannins. Medium bodied yet Opulent.