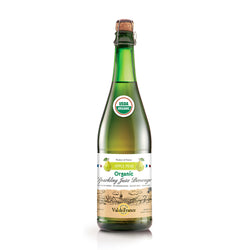 Val De Rance
Non Alcoholic Cider - Apple & Pear
SKU: NA011
Non Alcoholic Cider / No Added Sugar / Vegan / Gluten Free!
Drink the best from France with these premium non-alcoholic sparkling juices presented in a festive, traditional French Champagne bottle.
Val de France is a natural and low calorie drink which has a great taste of crisp, fresh apples.
These sparkling juices are Organic, GMO free, with No additives Added Sugar.
Choose from 5 flavours including Apple, Raspberry, Pomegranate, Peach or Pear.
Simply chill and pop the cork for a festive and effervescent drink to serve at parties, gatherings and celebrations – or to enjoy anytime!