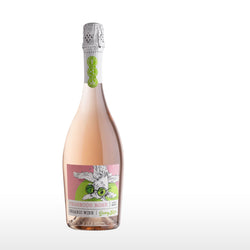 Sunny Farm
Organic Rosé Prosecco DOC Extra Dry
SKU: OW062
Certified Organic and Vegan Wine
Grapes – 90% Organic Glera 10% Organic Pinot Nero
The Sunny Farm brand is designed for those that genuinely care about the environment and want to support ethical brands. Brilliant pink colour. Intense aroma, with delicate hints of white flowers, apple, pear – typical of Prosecco – which blend with recognisable notes of red fruits. Fresh and velvety flavour with good acidity. Savoury, with a dry and persistent finish and an elegant aftertaste. Fine and persistent perlage.
Food pairing - Perfect for many dishes. Ideal to be paired with vegan sushi and mushrooms risotto.
What the wine maker says…
This sparkling wine is the result of a long Charmat method lasting around two months. The Pinot Nero grapes, after a soft pressing, are left in contact with the skins for a period of time necessary to reach the desired colour. The must then undergoes fermentation with a wine coming from Glera grapes in steel tanks at a controlled temperature of 18°C. A cuvée is then prepared with Prosecco wine for the secondary fermentation in a pressurized steel tank for at least 2 months.
ABV 11%
Serving temperature: 4-6°C
Residual sugar: Extra Dry