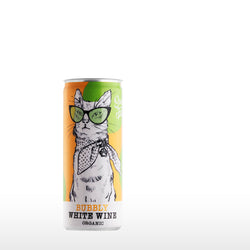 Sunny Farm
Organic Prosecco IGT Extra Dry 250ml Can
SKU: OW065
Certified Organic and Vegan Wine
Grapes – 100% Organic Glera
Region – Veneto region, in the heart of Treviso flatland
The Sunny Farm brand is designed for those that genuinely care about the environment and want to support ethical brands. Brilliant straw yellow colour with greenish reflections. Harmonious and fruity aroma reminiscing of Renetta apple. Fresh and balanced taste and an elegant aftertaste. Fine and persistent perlage.
Food pairing: excellent as aperitif and for any kind of buffet. Perfect to be paired with Vegetable curry, Nachos & guacamole and risotto with Red Radicchio of Treviso.
What the wine maker says…
The first phase includes a soft pressing and a traditional white wine vinification, keeping the temperatures low to preserve the quality of the grapes. In a second step, it is then performed the secondary fermentation in steel tanks at a controlled temperature for at least 30 days. 
ABV 11%
Serving temperature: 4-6°C
Residual sugar: Extra Dry