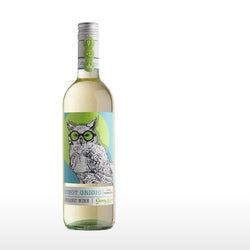 Sunny Farm
Organic Pinot Grigio DOC Venezia 2020
SKU: OW050
Certified Organic and Vegan Wine
Grapes: 100% Organic Pinot Grigio from
Region: Veneto DOC
The Sunny Farm brand has been developed to appeal to those that genuinely care about the environment and want to support ethical brands. Pouring a straw yellow colour Sunny Farm Pinot Grigio has an appealing fruit-scent with evident hints of toasted almonds, dry hay and walnut husk. Velvety, soft wine with balanced acidity.
Food Pairing – Excellent with asparagus risotto, truffle pasta, vegan pad-thai, coconut soup or herb omelette.
What the wine maker says…
Classic white vinification. Fermentation takes place at a controlled temperature in thermo-conditioned steel tanks. At the end of the alcoholic fermentation, the wine remains in contact with the yeasts for an adequate period of time, in order to extrapolate the best aromas.
ABV 12%
Ideal serving temperature 12 – 14˚C
Residual sugar: 1.6 gr/lt