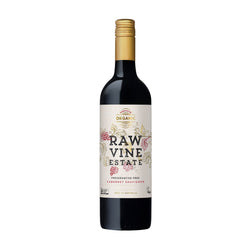 Raw Vine Estate
Organic Preservative Free Cabernet Sauvignon 2019
SKU: OW007
Organic, Preservative Free, Natural, Vegan Wines
One thing that really sets Raw Vine Estate apart from other producers is that the entire range is Organic, Preservative Free and Vegan so consumers can have complete confidence when they choose a wine from Raw Vine Estate that there are no added sulphites, animal products used in the fining or vinification process and that the grapes have been grown without the use of harsh pesticides.
Labelling on wine bottles can be confusing and there are many Organic wines on the market which have sulphites added during harvesting or vinification and we have found that consumers regularly assume that because the wine is organic it automatically does not have sulphites added.
Our customers regularly complain of experiencing a variety of negative side effects when they drink wine with added sulphites so with Raw Vine Estate you can enjoy your wine without having to worry.
The founder of the Raw Vine Estate brand is one of the first to develop the concept of Organic, Preservative Free, Vegan wine in the Australian market and the Raw Vine Estate brand is the culmination of over 10 years experiencing in producing Australia's finest natural wines.
This Cabernet Sauvignon has a tomato leaf and fennel seed bouquet and a rich palate of blackberries and black cherry. It is medium bodied with soft textural tannins which enhance the wines richness.