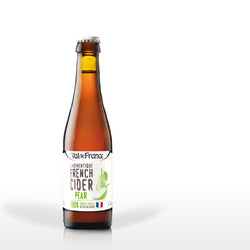 Val De Rance
L'Authentique Pear Cider
SKU: CDR004
Pear Cider.
L'Authentique 'Pear' cider is a contemporary French cider produced in Brittany using traditional French methods. The cider is a blend of 18 different cider apple varieties which fall into acidic, sweet, bitter, sweet-bitter and 'complete' apple categories. L'Authentique ciders are made only using 'cider apples' which are exclusive to Northern France including: Dous Moën, Marie Ménard, Douce Coëtligne, Gros Bedan, Guillevic and Judeline. The apples are only collected once they have fallen off the tree as this means they are mature enough for pressing.
L'Authentique Pear is a sublime French cider pouring a limpid, clear orange colour with the natural aroma of freshly pressed pears. Round and sweet in the mouth with medium acidity and naturally acidulated with the fruit sugars. A clean and dry finish is the hall mark of the L'Authentique range of natural ciders.
'Better for You'
L'Authentique French ciders enjoy a slow, natural fermentation which allows the apple aromas to fully release and have lower calories as they rely purely on the natural sweetness from the apples.
All of the L'Authentique range of ciders are vegan, gluten free, contain no added water, no added yeast, no added sugar and fit perfectly into the 'Better for You' category.
 Vegan Cider and Gluten Free Cider.
You may have tried our ciders at Bastille Day Sydney, Bastille Day Melbourne, Paris to Provence, Alliance Francaise events and the French Film Festival.