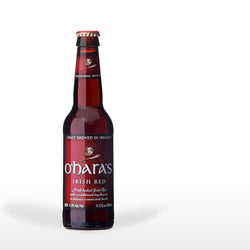 O'Hara's Irish Red Ale
SKU: BPK002
Amber Ale.
Setting the benchmark for Irish Red Ales!
As Red Ales become increasingly popular amongst Australian drinkers and brewers alike O'Hara's Irish Red Ale sets the benchmark for the category.
The malt body is as impressive as a bock, albeit in a uniquely Irish way. With an incredibly smooth malt body complimented by caramel tones and perfectly balanced in bitterness this Irish Red Ale delivers depth and complexity at 4.3 ABV. 
Dark ruby red in colour and pours with a dense lasting white head.

The malt aroma is immediately present and lasting with a tiny hint of roast barley, with an unmistakable fruity and almost herbal quality to the aroma due to the late addition of Mt. Hood hops.
The smooth malt taste is balanced by a caramel sweetness. The additional pinch of roast barley during the brewing process lends a distinctive bite which is balanced by a crisp medium bitterness. The caramalt flavours follow all the way to the end.
Naturally brewed, Vegan, Sustainable and now available in Australia.